Valentina's exchange year 2019-2020 in Finland.
Davi's exchange year 2017-2018 in Finland
Hi ! I am Davi from France.
To me, the best part of my life in Finland was the connections to the nature.
I will always remember that feeling of well being, on a rowing boat, watching the sunset at juhannus (midsummer) in a mökki (cabin), lost in the woods. The sauna had rested our bodies while the silence calmed our soul. You could only hear the far away kuikat (loons) and the light wind in the trees. After a nice dinner outside in the sun letut (pancakes) were cooking on the outdoor kitchen and the smell, and there we were, with the people that had become my family, looking at this summer never ending light. Finland has changed my life for the best, and forever will I keep connection to this place that is so dear to me.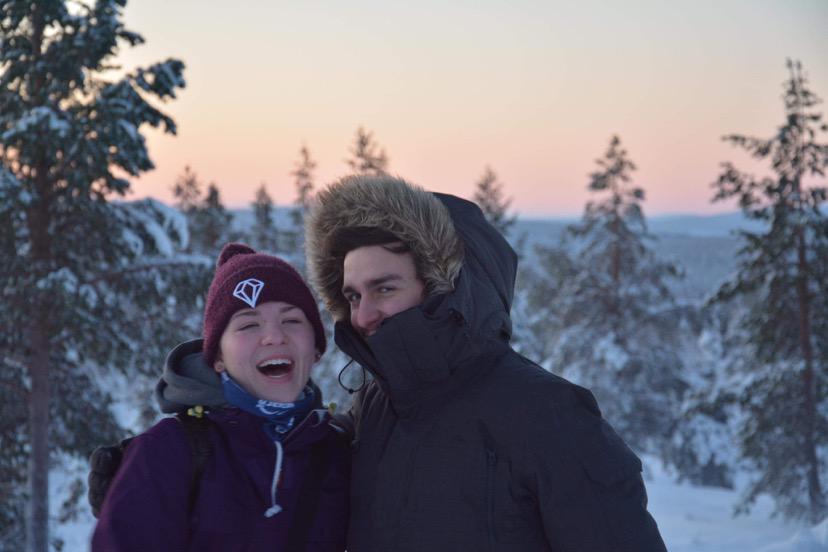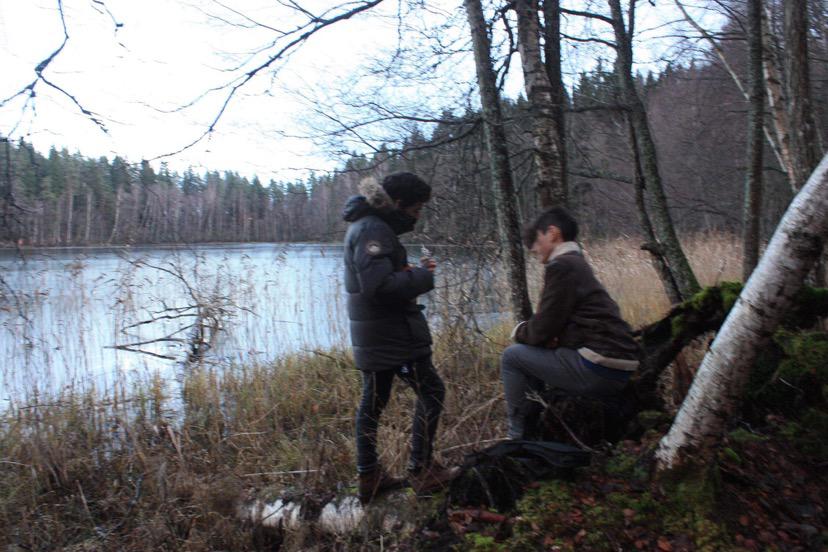 Giulia's exchange year 2015-2016 in Finland
Ciao a tutti ! I am Giulia from Italy.
I come from a small town in southern Italy. I've always been very fascinated by northern European countries, so when I got to know that Finland would be my host-country I was truly happy. In August 2015 I reached my amazing host-family in Turku, the oldest Finnish city.
It didn't take long to me to get used to local habits like "sauna-ilta", which refers to the evening saunas that my host-family (and most Finns) had twice a week before going to sleep and that today I miss a lot. At the beginning, everyone spoke English to me. In the meanwhile, I was attending a Finnish course after school that helped me a lot with the grammar and, in addition, I used to study by myself a few hours every day. Finnish is a challenging language to learn from zero in such a short time, but I can ensure that the effort is totally worth it. After five months, I asked my host-family and friends to speak only Finnish to me because I was able to understand and to communicate. The language played a fundamental role in my exchange year because, for example, it allowed me to build a beautiful relationship with my Finnish grandparents who did not speak English and to explore the culture more in depth.
In Luostarivuoren Lukio, the high school I attended, I had the chance to meet my Finnish friends who are good friends to me even today after five years. I never felt lonely because I had many Rotary people I could rely on in case of need. Rotary also organised a trip to Lapland in December and a trip to Saint Petersburg in March that I absolutely recommend.
I fell in love with Finland and its breath-taking landscapes in every season. I also enjoyed Finns' lifestyle and the way they care about nature and health. The people I met and the things I experienced will always have a special place in my heart.
Dóra's exchange year 2017-2018 in Finland
Hi ! I am Dóra from Hungary.
My exchange in Finland was the most amazing year of my life. Many amazing stories and lifelong friends. And now I want to share one dear memory to my heart. I come from a big city called Budapest and when I found out that I was going to live a small village with nearly 6000 people I got a bit nervous. I didn't know what to expect. But not much later I got to know many people from the town and it all started to feel like home. I made a lot of friends from school and we spent every day together, and it was so nice that everyone lived really close to me. Towards the end of my exchange year some close friends of mine organized a surprise goodbye party for me. I think that was one of the best gestures one has ever done for me. We had an amazing time together and all my friends and classmates were there. 4 years later I still remember that day and how special it was. I still talk to these friends, and we visited afterwards each other's multiple times. I know that they will stay in my life forever and that's a wonderful feeling. I really can not be thankful enough that I got to go to Finland for a year and that I had found so many great friendships.
Carlos' exchange year 2014-2015 in Finland
Hi ! I am Carlos from Mexico.
Suunnistus and me.
Stay active. Stay curious. Be brave. Those were the 3 things my home country advisors told me before leaving to the "unknown". Here's a quick recap. 17 years old guy straight from the city, travels to an 8000 inhabitants town. 9465km from "home". No idea what is happening, everything is so bright.
Summer in Finland = good vibes
Winter in Finland = good vibes
In between of both = mmmm
This is the story of how I learned to love orienteering, better known as suunnistus (in Finnish) and how I got lost (for a few minutes) in the Finnish forest. Networking, the 3 fundamentals I mentioned earlier and my desire to do some outdoor activity made me end up into a monthly Rotary meeting in Hämeenkyro. Yeah you are right, not even Finns know where that is. Except the people in there of course. So, there I am in a meeting with some older people, most of them retired, some other Entrepreneurs, and some like my host dad not so old and entrepreneurs too – dining. What are they talking about – I wonder? These mashed potatoes are extremely tasty hmm – I tell myself.
At the end of the meeting, they asked me 2 questions. The first one – which kind of hobbies I wanted to practice? The second one – do you like running? Long story short – Markus – a sports guy, working in Metso (big forestry company) suggests I do orienteering, foolishly I agreed without even knowing what I was getting into. To my fellow readers, orienteering is no jog in the clouds, smiling and laughing. I mean it could be if you are an expert which Markus essentially was. For me it was more like that kind of walks that turn into an odyssey to reach survival. You may be thinking I`m exaggerating. Well, a bit – but at the time it felt like it. Weather was grey and rainy, I was running to a checkpoint and then I realised I was in fact reading the map backwards this whole time. 4km turned into 7km. I mean luckily Markus was right behind me – he helped me out, gave me some sort of clues to follow and right before hitting a cliff he told me he would take over the lead. Right after, I got myself trapped into the swamp. I didn't know where I was nor how to get out of there.
After these few minutes I saw him waving at me from the distance. On our way back to the checkpoints I almost stepped on a snake – I yelled to Markus and he just told me KEEP RUNNING! We finished the route, hit all the checkpoints and met other people that knew my name, which I actually never met before. Gossip travels 100% faster in small towns, like the time I had a moment of fame doing an interview for the local newspaper, for pulling my grandma out of the lake since she fell from the deck at the Mökki (cabin) in my welcoming party. I knew no-one but everyone knew me.
This first route marked the pace I would later continue with school friends, family friends and even on my own. Even when things might look awful and weird, there's a tendency on finding them later on, amazing, and familiar. Ikaalisten Nouseva-Voima for life, 10/10 would recommend.